We are providing digital care of Autism by holistic approach to treat Autism Naturally by Allopathic, Homeopathic, Ayurvedic , Natural Medicine ,Diet and Therapies  by a team of Autism Experts under the guidance of Dr D K Rai. We are focusing on Home therapy plan, Parents Training & Online monitoring. We are focusing on Functional Medicine to treat the root cause of diseases. We are providing child Care for Autism Spectrum Disorder (ASD) online by holistic approach through experts including Home based therapy plan for OT, Speech, Special education, Diet, Nutritional supplementation, Yoga,  and other alternative medicines. We are focusing on parents training to enable them provide 24X7 care to autistic child without spending regular time and money on it. Our core value is our passion to work with children with developmental disabilities. Here you will get to practice new methodologies, try out innovative techniques that can have a dramatic impact on the lives of yours special kid.
It will be very painful if you notice that your child has Autism symptoms. Your next question will be
& Pain may increase further if you don't know the answers of these questions
DON'T BE PANIC. THE WEB AUTISM IS ALWAYS WITH YOU.

Web Autism | Digital Care Of Autism
Let's Not Try to "Label" Our Children.
Instead, Make them an Asset for the nation
Now you Can Self-Manage your Autistic Child's Development​
Without Being dependent on Therapists or their per hour charges, The Web Autism is always with you.
Autistic Child Care online
We serve children of 3-12 years old having behavior, speech delay & education as a challenge
The India's First Platform That Strengthens Parents
Since its start, Web Autism (Previously The Best Healths) has empowered more than 200 families to attain life-changing results for their children using our evidence-based protocol.
Our members get the highest quality clinical care and parental support, in a fraction of the payment taken by traditional therapy.
Online solutions for 24X7 care of Autistic child at home on affordable price.
Our experienced & committed professionals & therapists will help you to guide further.
You should not run here & there for therapies only, because therapies will cover 1-2 hours & 22-23 hours care will be done by you. So you should adopt a holistic approach of care. Which includes
Doctor Consultation,
Therapies (Occupational Therapy/Speech Therapy),
Diet,
Exercise,
Education &
Parental training etc.
3-Step Protocol Used In Web Autism
Here's how more than 200 families have successfully implemented our 3-step framework to develop amazing outcomes for their loved one.
Detailed Requirements Assessment
We start with a detailed assessment of your child's requirements and strengths. This could include a range of evaluations including communication, behavioral and intellectual skills. At the end of each assessment, we decide key growth objectives and development milestones.
At the end of the assessment , we design a set of goals that are closely guide the therapy & help in measuring improvements for your child. Our goals are created using a S.M.A.R.T framework – in a way that is easily implemented by parents, caregivers and educators.
The importance of Web Autism lies in its implementation strategy. You don't need to wait for years to see the progress. Rather, progress takes place every month by taking small steps.
Every week, our experts will help you implement a set of strategic work and activities. We focus on gradual progress, not perfection. If we are making progress every month, we will continue developing momentum using this strategy. Otherwise, we will review the plan for better results.
Children learn skills 2 to 5 times faster using Web Autism's protocol!
Development by regular Therapy takes more time to see improvement in children. We guide & train families to incorporate strategies throughout daily routines, like meal time,or other activities of daily living.
1. India's first 24X7 digital care for Autism at home at an affordable price.
2. Your child care will be done by family members, experienced professionals & therapists supervised by a doctor.
3. Based on the holistic approach of care covering the physical, mental, social, behavioral & nutritional status of your child.
4. Customized plan as per the need of your child. Evidence-based protocol, following are evidence for our protocol
When we could see the improvement in our kids?
Improvement is a continuous journey, but you could see visible improvement in 3 months.We will focus on most important skill in designing a monthly plan.
OR, Click Here for a Free Consultation with The Web Autism Program Coordinator
What age group you select for this protocol?
Our program is most useful for kids between 2 to 12 years of age. Usually, a child's requirement change as they approach teenage or puberty, so we assess the child & decide on case to case basis.
Which areas you serve?
We are providing online services, so we are able to serve India, USA, UK & Gulf countries.
How much time parents/ Caregiver should give to child?
Usually 1 hour/ day or 7 Hours per week quality time is sufficient along with implementation of other protocols, but if you give more time you will get better results.
What happens after 3 months implementation?
Either they Learn how to care their child & they care by themselves or take a maintenance plan or Take our advanced plan or they continue the same plan with next goal.
What's The Evidence Behind The Web Autism Protocol?
Do You Offer A Free Trial?
At present, we do not offer a free trial. We have worked with many families, our experience is when families make a small payment to to take our services they tend to value it more & implement it with more commitment, therefore getting better results. We have designed Web Autism Protocol  to be as affordable as possible. It will cost a fraction of traditional therapy and you can cancel anytime. If the value of parents training and self dependency is added, its price is nothing in comparison to value.
Can I take more One-On-One Sessions with a therapists?
Yes. You can take as many sessions as you like.You have to pay accordingly.
Start your first step today to make your child an asset
Plan C
1 Psychologist Counseling
Plan D
1 Psychologist Counseling
CEO/ Chief Medical Officer
Dr D K Rai
CEO/ Chief Medical Officer
MBBS, MD, Diploma Mental Health Autism Society of America Certified Functional Medicine & Autism Expert 18+Years Clinical & Managerial Experience Dr D K Rai is strong advocate of Holistic Medicine, integrating modern medicine with alternative medicine, to give synergistic benefit to patients. Positive aspects of all branches will make patient healthy in a lesser time and money.
Mrs Anamika Rupa
MBA (HR)
Mr. Sachin Verma
Chief Technology Officer
Mr Jitendra Singh
Business Development Officer
Mr Himanshu Sharma
Chief Strategy Officer
Mrs Komal Gautam
Training & Development
Mr. Mritunjay
Chief Legal Officer
Dr. D. K Rai
CEO/ Chief Medical Officer
MBBS, MD, Diploma Mental Health Autism Society of America Certified Functional Medicine & Autism Expert [18+Years] Clinical & Managerial Experience
Mrs Anamika Rupa
MBA (HR)
MBA(HR) Professional Child Psychology Diploma Certificate in Occupational Therapy Co- Founder, Head HR , Child Psychology & Occupational Therapy expert [12+Years] Experience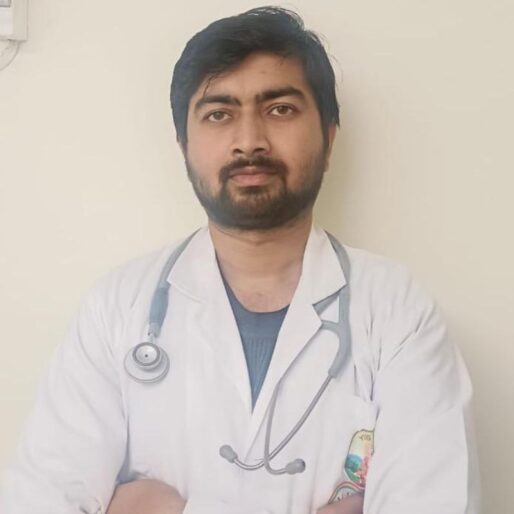 Dr. Vishwa Deep Biswas
BAMS
Certificate Kayachitiksa (Under Ayush Ministry) Certificate PrakritiAssessment(Under Ayush Ministry) Certificate Clinical Panchkarma [6+ Years] Experience
Ms Iti Saxena
M.Sc Food & Nutrition
Dietician [5+years] Experience
Dheeraj Kumar Maurya
M.A Clinical Psychology
PG Diploma Guidance & Counselling [14+Years] Experience
Manmeet Kaur
MA Psychology
[5+ Years] Experience
Sakshi Rana
Nutritionist
Msc food & Nutrition
Soni Gupta
Yoga specialist
Yoga specialist
Dr. Ravi Kapasiya
BHMS
Homeopathy
Dr Mangal singh Rana
MPT (NEUROLOGY), BPT
Physiotherapist
Dr Ajay Gupta
paediatrician
Child specialist
Dr. Vivek Agarwal
Dentist
BDS
Dr. Sumit Kumar Rabi
Neurologist
MBBS, MD – General Medicine, DM – Neurology
Dr Gaurav Garg
ENT
ENT Specialist